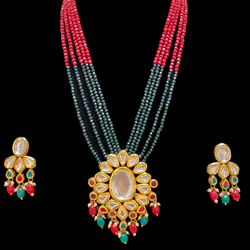 Our Multicolor Sahira Jewelry Set is a modern take on the classic. Its meticulously handcrafted design showcases an intricate pendant with a big uncut kundan in the middle, surrounded by beautiful small uncut kundans with ruby, emerald and pearl droppings.  The necklace showcases ruby and emerald onyx beads and the pendant showcases back meenakari.  The necklace is accompanied by uncut kundan earrings with back meenakari and ruby and emerald beads and pearl droppings.
Specifications
Materilas Used: Kundan with back meenakari, Ruby, Emerald Onyx Beads, Pearls on gold plating
Weight: Earrings 17 g, Necklace 69 g
Height: Earrings 6 cm, Necklace 29 cm
At Romikas, we pride ourselves on the craftsmanship and high quality of our jewelry, designed to enhance your natural beauty. Please contact us with any questions.