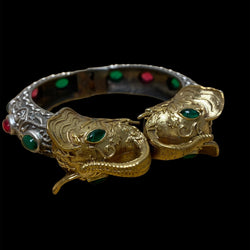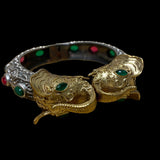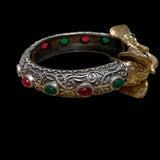 Enhance your outfits with our Preity bangle, perfect for any occasion. These classic beauties feature dual finish elephant heads and ruby and emerald stones throughout the bangle.  
Specifications
Materials used: Dulal Finish(Gold and Silver), Emerald, Ruby Stones
Size options: Openable, will fit sizes 2.6 and 2.8
Comes in single
At Romikas, we pride ourselves on the craftsmanship and high quality of our jewelry, designed to enhance your natural beauty. Please contact us with any questions.