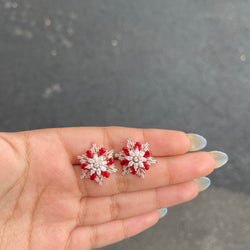 Our Red Elisa Studs are delicate and subtle beauties. These high quality studs are handmade with high quality American Diamonds featuring intricate placement of red crystals on Rose Gold Finish.
Specifications
Materials used: American Diamond, Red Crystals on Rose Gold Finish
Height: 2 cm
Weight: 4 grams
At Romikas, we pride ourselves on the craftsmanship and high quality of our jewelry, designed to enhance your natural beauty. Please contact us with any questions.