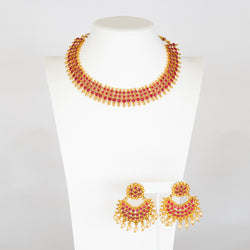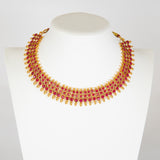 The glowing beauty of our ruby Tanya jewelry set is sure to catch all eyes when you wear it. Its entrancing combination of ruby-red gemstones with pearls will uplift any outfit.
Specifications
Materials used: red gemstones, pearls, high gold plating
Weight: 52.8 grams total - consisting of 36.9 grams (necklace) and 15.9 grams (earrings)
At Romikas, we pride ourselves on the craftsmanship and high quality of our jewelry, designed to enhance your natural beauty. Please contact us with any questions.