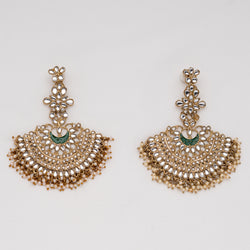 The Emerald Miraza earrings are an American Diamond Drop Chandbali. This beauty is a one of a kind unique piece. Handcrafted to perfection, it features a great combination of American Diamonds and Polki Stones with an elegant drop of pearls.  Perfect to fit any outfit, these earrings are sure to find a special place in your jewelry box.
Specifications
Materials used: Hand painted meenakari, polki, american diamonds on gold plating.
Lenght: 9.5 cm
Weight: 25.2 grams
At Romikas, we pride ourselves on the craftsmanship and high quality of our jewelry, designed to enhance your natural beauty. Please contact us with any questions.