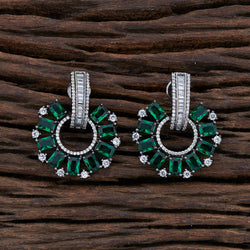 Our mesmerizing Emerald Katie Earrings are the perfect add to your collection. These earrings showcases the perfect marriage of Rani Stones with AAA quality American Diamonds on victorian finish.  Perfect for day and evening wear, these dainty pieces gives an elegant touch to your outfit.
Specifications
Materials used: American Diamonds, Emerald stones on Victorian finish
Length: 3.5 cm, Width: 3 cm
Weight: 6 grams
At Romikas, we pride ourselves on the craftsmanship and high quality of our jewelry, designed to enhance your natural beauty. Please contact us with any questions.