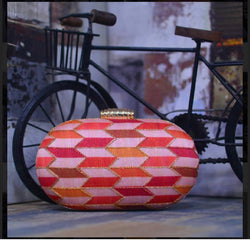 Step into a realm of timeless elegance with our captivating Multicolor Urvashi Clutch Bag, adorned with a kaleidoscope of multicolored hand embroidery in shades of fiery orange and radiant red. The high-quality material exudes a luxurious feel, ensuring durability and a touch of opulence. Every thread of the intricate embroidery reflects the skilled artistry and attention to detail that went into its creation, creating a visual masterpiece that demands attention. The gold-plated hardware, from the delicate clasp to the gleaming chain, adds a touch of glamour and completes the bag's exquisite aesthetic. Carry this enchanting clutch and make a bold fashion statement, as you effortlessly combine sophistication with a vibrant burst of colors.
Specifications
Materials used: Hand embroidery, Gold Plating
Weight: 
Dimensions: 7.5 x 4.5 inches
Includes a detachable sling with gold-plating and features metal lock closure
At Romikas, we pride ourselves on the craftsmanship and high quality of our jewelry, designed to enhance your natural beauty. Please contact us with any questions.