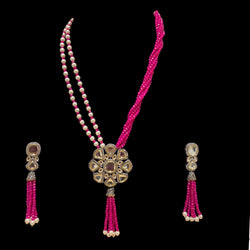 The Pink Vishakha Jewelry Set is a one-of-a-kind set featuring Silver Foiled Uncut Kundan with pearls, pink monalisa beads and american diamonds.
Specifications
Materials used: Uncut Kundan, Pink Monalisa Beads, Pearls, American Diamond
Weight: Earrings 17 g, Necklace 85 g
Length: Earrings 10.5 cm, 35 cm
At Romikas, we pride ourselves on the craftsmanship and high quality of our jewelry, designed to enhance your natural beauty. Please contact us with any questions.