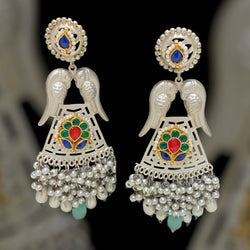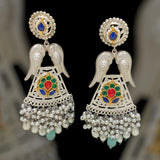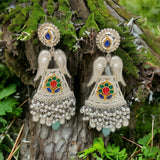 Crafted with precision, our 92.5 Silver Coated Earrings exude timeless elegance. Featuring a delicate bird motif, these earrings showcase meticulous artistry. The center boasts a vibrant ruby green flower, accented by a brilliant blue stone on top. Dangling pearls add a touch of sophistication, creating a harmonious blend of nature-inspired design and luxurious detailing. Elevate your look effortlessly with these statement earrings, perfect for any occasion. From the intricate bird motif to the radiant gemstones and dangling pearls, each element contributes to a piece that's as unique as it is stunning. Embrace the beauty of craftsmanship with these silver-coated earrings.
Specifications
Materials used: copper, 92.5 Silver Coating, pearls, ruby, green and blue gemstones
At Romikas, we pride ourselves on the craftsmanship and high quality of our jewelry, designed to enhance your natural beauty. Please contact us with any questions.