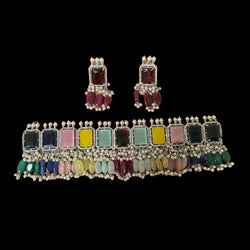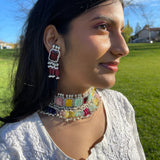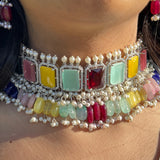 Inspired by the colors of spring, our Multicolor Aati Necklace Set will bring joy to your day. This set features a beautiful combination of ruby, mint, pink and yellow colors in combination with pearls to give it a modern yet traditional look.  The ravishing Aati Necklace Set includes a necklace and pair of earrings.
Specifications
Materials used: Real Stones, Monalisa Beads, Pearls
Weight: 157.1 grams (total) – 134 grams (necklace), 23.1 grams (earrings)
At Romikas, we pride ourselves on the craftsmanship and high quality of our jewelry, designed to enhance your natural beauty. Please contact us with any questions.