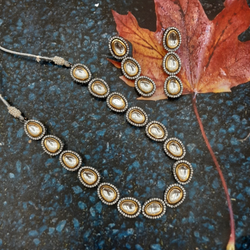 The Sarika Kundan Necklace Set is an elegant one of a kind piece. Handcrafted with utmost care this set features uncut kundan on victorian polish. Each piece of uncut kundan is surrounded by small American diamonds to elevate the look.  The necklace comes with an adjustable rope so that the length of the necklace can be adjusted according to your preference. The earrings showcase 3 stunning pieces of uncut kundan surrounded by American diamonds. This piece will always have a special place in your jewelry box.
Specifications
Materials used: Uncut Kundan, American Diamonds on Victorian finish
At Romikas, we pride ourselves on the craftsmanship and high quality of our jewelry, designed to enhance your natural beauty. Please contact us with any questions.