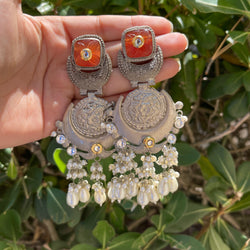 Our beautiful Bhavya Earrings is a one of a kind Premium Quality piece. This beauty is on 92.5 silver coating, which means that it is made of brass and coated with 92.5% pure silver with beautiful carved Amrapali Stone with pearls with Kundan.
Specifications
Materials used: Brass, 92.5% Silver, Pearls, Carved Amrapali Stone, Kundan
At Romikas, we pride ourselves on the craftsmanship and high quality of our jewelry, designed to enhance your natural beauty. Please contact us with any questions.