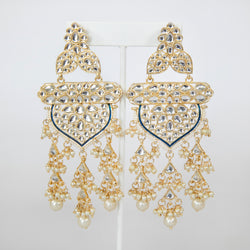 Perfect accessories for this festive season, our Blue Anjali earrings will draw all eyes to you. Lightweight yet striking, these earrings feature high-quality kundan, pearls, and hand-painted meenakari.
Specifications
Materials used: kundan, pearls, hand-painted meenakari, gold plating
At Romikas, we pride ourselves on the craftsmanship and high quality of our jewelry, designed to enhance your natural beauty. Please contact us with any questions.