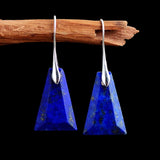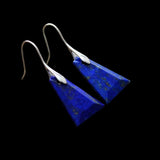 Indulge in the allure of our Lapiz Lazuli drop earrings, a harmonious blend of timeless beauty and contemporary style. Meticulously crafted from sterling silver, these earrings boast a delicate design that gracefully complements any outfit. The focal point is the enchanting Lapiz Lazuli, a deep blue gemstone renowned for its rich color and spiritual significance.
The faceted Lapiz Lazuli gems dangle effortlessly, catching the light to reveal intricate patterns and variations within the stone. The sterling silver setting adds a touch of refinement, ensuring a perfect balance between classic and modern aesthetics. Whether you're attending a special occasion or simply looking to enhance your everyday elegance, these earrings are a versatile and sophisticated choice.
Embrace the symbolism and energy associated with Lapiz Lazuli, believed to promote wisdom and self-expression. Elevate your jewelry collection with these timeless treasures, a testament to craftsmanship, style, and the enduring allure of Lapiz Lazuli.
Specifications
Materials used: Lapuz Lazuli Natural Stone, Sterling Silver
At Romikas, we pride ourselves on the craftsmanship and high quality of our jewelry, designed to enhance your natural beauty. Please contact us with any questions.