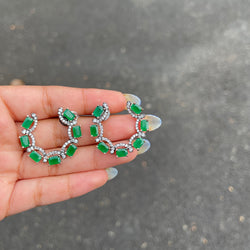 Complement your outfit with our beautiful Ethena Emerald American Diamond earrings. Handcrafted to perfection, these earrings display an elegant design of emerald-green gemstones interlaced with American Diamonds on black plating.
Specifications
Materials used: American Diamonds (cubic zirconia), green gemstones, black rose plating
Length: 3 cm
Weight: 5.6 grams
At Romikas, we pride ourselves on the craftsmanship and high quality of our jewelry, designed to enhance your natural beauty. Please contact us with any questions.