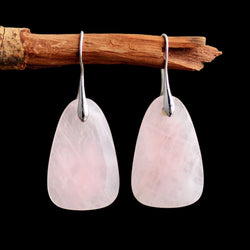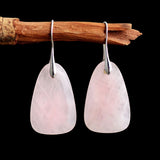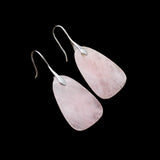 Introducing our exquisite Rose Quartz Drop Earrings in Sterling Silver – a harmonious blend of timeless elegance and natural beauty. These enchanting earrings are crafted with meticulous attention to detail, combining the lustrous allure of sterling silver with the gentle, rosy hues of genuine rose quartz.
The focal point of each earring is a delicately faceted rose quartz gemstone, gracefully suspended from a polished sterling silver setting. The soothing pink tones of the rose quartz evoke a sense of tranquility and femininity, making these earrings a perfect accessory for both casual and formal occasions.
The silver setting adds a touch of sophistication, complementing the soft, romantic charm of the rose quartz. The carefully designed drop style ensures graceful movement, catching the light and drawing attention to the natural beauty of the gemstones.
Whether you're dressing up for a special evening or adding a touch of refinement to your everyday look, these Rose Quartz Drop Earrings in Sterling Silver are the perfect choice. Elevate your style with the understated luxury of genuine gemstones and the timeless appeal of sterling silver. Each pair is a testament to craftsmanship, quality, and a celebration of feminine grace.
Specifications
Materials used: Rose Quartz Natural Stone, Sterling Silver
At Romikas, we pride ourselves on the craftsmanship and high quality of our jewelry, designed to enhance your natural beauty. Please contact us with any questions.