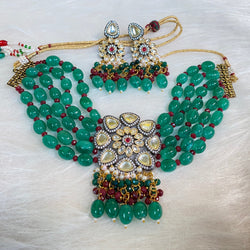 The Green Zarna Jewelry Set features high quality Kundan with Hand-picked Gems with Cubic Zirconia on a Victorian Finish.
Specifications
Materials used: Kundan, White Gems, Cubic Zirconia, Victorian Finish.
At Romikas, we pride ourselves on the craftsmanship and high quality of our jewelry, designed to enhance your natural beauty. Please contact us with any questions.