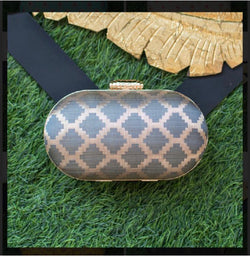 Elevate your style with our mesmerizing grey clutch bag, adorned with a timeless and classic gold design that exudes sophistication. Crafted from high-quality material, this clutch bag is a symbol of luxury, ensuring durability and a touch of refinement. The gold-plated hardware, from the elegant clasp to the sleek chain, adds a touch of opulence and elevates the overall aesthetic. With its neutral grey hue and exquisite gold design, this clutch bag seamlessly complements any ensemble, making it a versatile and essential accessory for any occasion. Embrace the allure of understated elegance and carry this clutch to make a bold statement of timeless beauty.
Specifications
Materials used: Hand embroidery, Gold Plating
Weight: 
Dimensions: 7.5 x 4.5 inches
Includes a detachable sling with gold-plating and features metal lock closure
At Romikas, we pride ourselves on the craftsmanship and high quality of our pieces, designed to enhance your natural beauty. Please contact us with any questions.