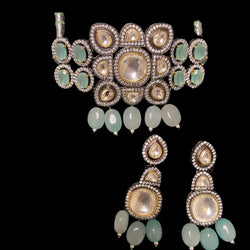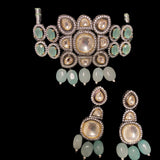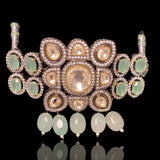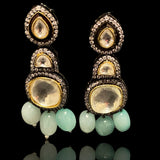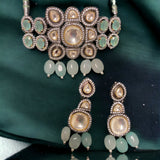 The Mint Teal Akruti Choker Set features a beautiful combination of high quality American Diamonds and Monalisa Beads. Set comes with a necklace and a pair of earrings.  The center of the necklace has a beautiful motif with an uncut kundan  surrounded by american diamonds and is surrounded by different shapes of kundan with american diamonds. Brings a subtle elegance to your outfit, this set is a must in your collection.
Specifications
Materials used: american diamonds, uncut kundan, mint and teal monalisa stones
At Romikas, we pride ourselves on the craftsmanship and high quality of our jewelry, designed to enhance your natural beauty. Please contact us with any questions.