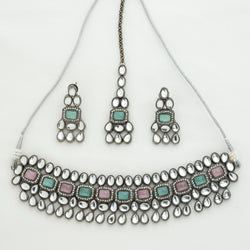 The Multi-Color Shanaya Jewelry Set is a one-of-a-kind set featuring High-Quality Kundan on Victorian Finish with a stunning pairing of Pink and Firozi gems.
Specifications
Materials used: Kundan, Pink, Firozi gems, Victorian Finish 
At Romikas, we pride ourselves on the craftsmanship and high quality of our jewelry, designed to enhance your natural beauty. Please contact us with any questions.