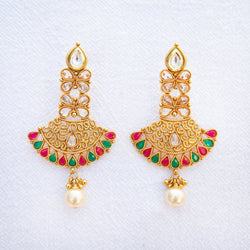 You'll turn heads with our stunning Multicolor Zoya earrings. Uniquely shaped, these showstopper earrings are hand-crafted with Ruby and Emerald embedded gemstones, dangling pearls, kundan, and polki design.
Specifications
Materials used: kundan, Ruby and Emerald gemstones, pearls
Length: 8 cm
Weight: 33 grams
At Romikas, we pride ourselves on the craftsmanship and high quality of our jewelry, designed to enhance your natural beauty. Please contact us with any questions.