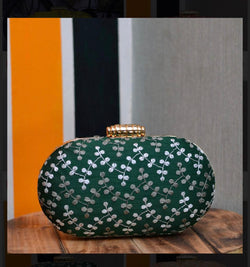 Step into the world of opulence with our exquisite Nirali Hand Embroidered Emerald Clutch, adorned with stunning hand embroidery in shades of white and grey. Crafted from the finest quality material, every stitch is a testament to meticulous craftsmanship and attention to detail. The emerald green hue exudes an air of sophistication, while the delicate hand embroidery adds a touch of elegance and charm. Complete with gold-plated hardware, this clutch bag is the epitome of luxury, radiating a sense of glamour that is sure to turn heads at any occasion. Carry this statement accessory and let it be the crowning jewel of your ensemble, elevating your style to new heights.
Specifications
Materials used: Hand embroidery, Gold Plating
Weight: 
Dimensions: 7.5 x 4.5 inches
Includes a detachable sling with gold-plating and features metal lock closure
At Romikas, we pride ourselves on the craftsmanship and high quality of our jewelry, designed to enhance your natural beauty. Please contact us with any questions.