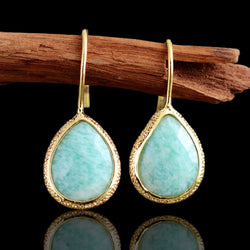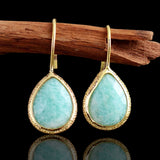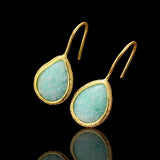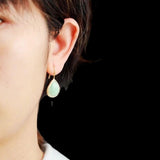 Elevate your style with these exquisite Light Blue Amazonite Drop Earrings, adorned with elegant gold plating. The captivating hue of the Amazonite stones exudes tranquility and sophistication, reminiscent of clear skies and calm waters. The carefully selected gemstones are expertly cut into gracefully dangling drops, catching the light with every movement. Each stone showcases unique variations, adding a touch of individuality to these already distinctive earrings.
The gold-plated setting enhances the natural beauty of the Amazonite, providing a warm and luxurious backdrop. The combination of light blue and gold creates a harmonious and timeless aesthetic, making these earrings versatile enough to complement both casual and formal attire. With their refined design and attention to detail, these earrings effortlessly blend modern chic with classic charm, making them a must-have accessory for any fashion-forward individual. Add a touch of understated glamour to your ensemble with these Light Blue Amazonite Drop Earrings, a perfect balance of sophistication and style.
Specifications
Materials used: Amazonite Natural Stone, Gold Plating
At Romikas, we pride ourselves on the craftsmanship and high quality of our jewelry, designed to enhance your natural beauty. Please contact us with any questions.