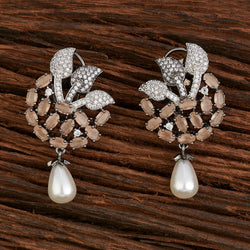 Want to stylize with some beautiful jewelry?  Look no further that these beautiful Peach Nalina Earrings. Handcrafted with high quality amercian diamonds and peach stones, these classy earrings showcase victorian finish with a stunning pearl drop.
Specifications
Materials used: Peach Stone, Pearl, American Diamonds in Victorian Finish
Height: 4 cm
Weight: 6.7 grams
At Romikas, we pride ourselves on the craftsmanship and high quality of our jewelry, designed to enhance your natural beauty. Please contact us with any questions.