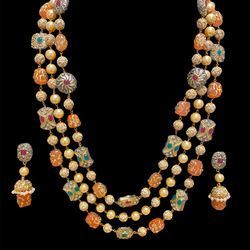 The Peach Tashi Jewelry Set is not only elegant but unique. From hand-painted beads to embedded gem pendants, this set is perfect to wear with a Saree.
Specifications
Materials used: Kundan, Pearl, Peach Tanjore beads
Weight: Earrings 25.8 g, 244 g
At Romikas, we pride ourselves on the craftsmanship and high quality of our jewelry, designed to enhance your natural beauty. Please contact us with any questions.