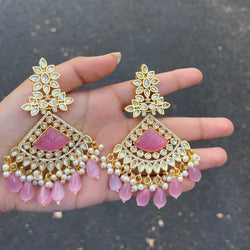 Add elegance to your outfits with our timeless Pink Aaftab earrings. These beauties are intricately crafted with Tyaani Kundan and silver foiling with Pink Mona Lisa Beads, with a Hand-Carved Amrapali stone, on American Diamond. This premium quality piece also is gold plated.
Specifications
Materials used: Tyaani Kundan, Amrapali Stone, Pink Mona Lisa Beads, Silver Foiling, Gold Plating, American Diamond
Weight: 30 grams
Height: 3 inches
At Romikas, we pride ourselves on the craftsmanship and high quality of our jewelry, designed to enhance your natural beauty. Please contact us with any questions.