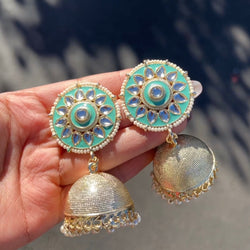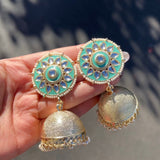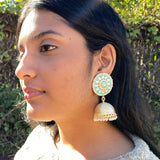 You'll dazzle with our lovely mint Padma jhumka earrings. Handcrafted with high-quality kundan, gemstones, dangling pearls, and gold plating, these jhumkas are perfect for any occasion.
Specifications
Materials used: kundan, pearls, embedded gemstones, high gold plating
Length:

6 cm

Weight: 23.9 grams
Made in USA
Only 1 left in stock!
At Romikas, we pride ourselves on the craftsmanship and high quality of our jewelry, designed to enhance your natural beauty. Please contact us with any questions.