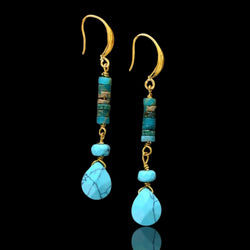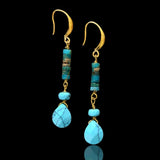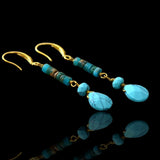 Introducing our exquisite Turquoise Jasper Drop Earrings, a harmonious blend of nature's beauty and elegant craftsmanship. These stunning earrings effortlessly combine the captivating allure of turquoise with the earthy charm of jasper, creating a mesmerizing accessory that is sure to turn heads.
The focal point of these earrings is the turquoise jasper drops, showcasing a unique fusion of vibrant turquoise hues and the rich, grounding tones of jasper. Each carefully selected gemstone is expertly cut and polished to enhance its natural beauty, revealing intricate patterns and variations that make each pair truly one-of-a-kind.
The drop design adds a touch of sophistication, allowing the earrings to sway gracefully with your every movement. The gold-plated setting provides a refined frame for the gemstones, enhancing their allure and ensuring durability.
Whether you're dressing up for a special occasion or adding a pop of color to your everyday look, these turquoise jasper drop earrings are a versatile and timeless choice. The combination of bold yet soothing colors makes them easy to pair with a variety of outfits, from casual ensembles to more formal attire.
Experience the essence of nature's beauty and embrace a sense of individuality with our Turquoise Jasper Drop Earrings. Elevate your style with these distinctive earrings that effortlessly blend the magic of turquoise and the grounding energy of jasper, creating a truly captivating accessory for any jewelry collection.
Specifications
Materials used: Turquoise, Jasper Natural Stones, Gold Plating, 
At Romikas, we pride ourselves on the craftsmanship and high quality of our jewelry, designed to enhance your natural beauty. Please contact us with any questions.