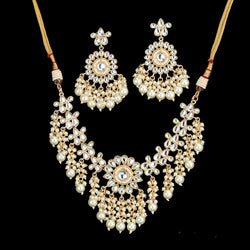 Treat yourself to our lovely White Payel Jewelry Set, handcrafted with pearl beads and high-quality kundan on gold plating. This set is perfect for both morning and evening wears and can be paired with your favorite sari, lehenga, kurti or even any western outfits.
Specifications
Materials used: kundan, beads, pearls on gold plating
At Romikas, we pride ourselves on the craftsmanship and high quality of our jewelry, designed to enhance your natural beauty. Please contact us with any questions.