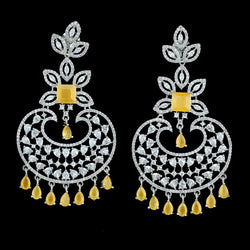 Our Yellow Sheri Earrings are the perfect touch of Elegance and beauty. These unique beauties feature AAA American Diamonds with yellow crystals on Rhodium Plating.
Specifications
Materials used: American Diamonds, Yellow Crystals, Rhodium Plating
Length: 8 cm, Width: 4.2 cm
Weight: 8.1 grams
At Romikas, we pride ourselves on the craftsmanship and high quality of our jewelry, designed to enhance your natural beauty. Please contact us with any questions.