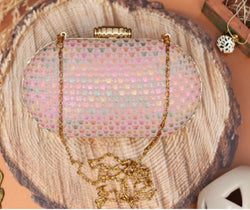 Indulge in the whimsical allure of our Pink Sanya Hand Embroidered Clutch Bag, adorned with a vibrant symphony of multicolor hand embroidery that dances across its high-quality material. Every stitch is an ode to artistic brilliance, creating a mesmerizing tapestry of colors that captivates the eye. The refreshing Pink shade adds a touch of playfulness, while the intricate hand embroidery showcases the skillful craftsmanship behind this exquisite piece. All hardware, including the delicate clasp and chain, is luxuriously gold-plated, accentuating the bag's refined elegance. Carry this enchanting clutch and immerse yourself in a world of beauty and style that effortlessly stands out from the crowd.
Specifications
Materials used: Hand embroidery, Gold Plating
Weight: 
Dimensions: 7.5 x 4.5 inches
Includes a detachable sling with gold-plating and features metal lock closure
At Romikas, we pride ourselves on the craftsmanship and high quality of our jewelry, designed to enhance your natural beauty. Please contact us with any questions.